Dr. Amanda L. J. Duffus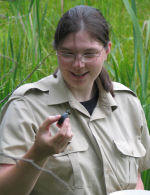 Associate Professor of Biology
Department of Biology and Physical Sciences
Gordon State College
Barnesville, GA
30204

Email: aduffus@gordonstate.edu
Office: Instructional Complex 227
Telephone: (678) 359 - 5464

Current Teaching - Fall 2017
BIOL 1112B - Non-Majors Bio 2
BIOL 3200 - Genetics
BIOL 4200 - Evolution
Office Hours:
MW: 8:30 – 9:30; 10:45 – 12:30
T: 8:30 – 9:00; 12:00 – 1:00; 3:00 – 5:00
Dr. Duffus will only see students during her office hours.

The syllabi and other associated course information can be found on Bright Space by Desire2Learn

Back to Faculty Credentials and Web Page Listing

Disclaimer: This web page and its associated web pages are not an official publication of Gordon College. Unofficial web pages pertain to online material created for educational purposes that reflect individual conception and do not necessarily convey the college's vision. The author of these pages is solely responsible for content.