Dr. Amanda L. J. Duffus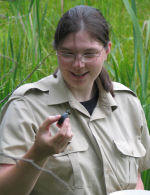 Associate Professor of Biology
Department of Biology and Physical Sciences
Gordon State College
Barnesville, GA
30204

Email: aduffus@gordonstate.edu
Office: Georgia House
Telephone: (678) 359 - 5464

Looking for BIOL 4900 - Animal Behavior for Summer 2018?
When you are searching for the class, it's under the Online classes section in Hybrid/Partially Online classes.

For More Information please go to www.amandaduffus.com

Back to Faculty Credentials and Web Page Listing

Disclaimer: This web page and its associated web pages are not an official publication of Gordon College. Unofficial web pages pertain to online material created for educational purposes that reflect individual conception and do not necessarily convey the college's vision. The author of these pages is solely responsible for content.